One of the best ways to introduce your little one to the idea of having a new baby around is to get them a baby doll specifically for practicing their new role as big brother or sister. Doll play may be nothing new for soon-to-be big sisters, but this is an especially useful idea for future big brothers who don't already have a basket of baby dolls laying around.
---
Have their stork deliver a new "special doll", and explain that they are to treat it like it's their new real baby. Use the time they are playing with this doll as an opportunity to show them how to properly handle and care for a little baby. Encourage them to treat this "special doll" with extra care because it is their "real baby", and help them understand what they can and can't do with a real baby.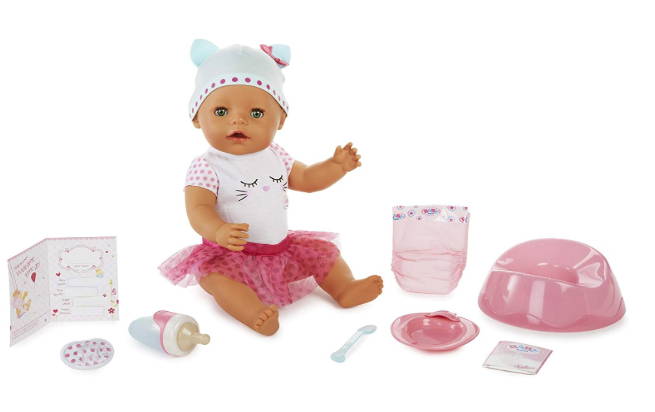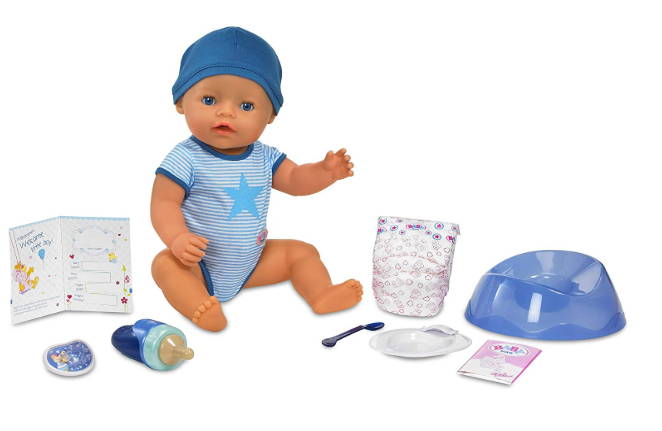 There are plenty of baby dolls to pick from, but the Interactive Baby Dolls by Baby Born is great because they have 9 lifelike features that make it feel like taking care of a real baby which encourages realistic role play. The doll's interactive features allow you to do things like feeding her, give her a bottle, change her diaper, bath her in the bathtub, etc., and it comes with a birth certificate, bottle, pacifier, diaper, plate, spoon, potty seat, baby food packet. It doesn't require batteries, so it's ready to play right away!
In addition to giving your little one lots of valuable practice for their important new role, these structured playtimes may also give you a little insight into some of the emotions they are feeling during this major transition. Unlike adults who tend to talk things out, children play them out, so any negative emotions they may be having toward the "new baby" may reveal themselves early in how they play with their baby doll. Any indication of negative emotion is normal, and should always be discussed with empathy and understanding.
Once they have their new "special baby doll" to practice with, you may even consider looking for a special sibling preparation class that you can take them to. Many hospitals offer them, and they are designed as a sort of orientation for soon-to-be brothers and sisters. These classes can include lessons on how to hold a baby, explanations of how a baby is born, and opportunities for kids to discuss their feelings about having a new brother or sister.
---
---
***This page may contain affiliate links to products. We may receive a commission for purchases made through these links.***
---